Englewood Amateur Radio Society (EARS)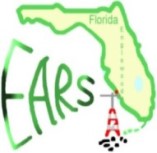 Welcome
Our main purpose is to encourage the pursuit of amateur radio as a hobby. …including the sharing of information and cooperation among its members; promote the science of radio communication; demonstrate, urge and teach good operating habits; preserve the customs of amateur radio; sponsor and promote educational programs for its members and the general public; and render service to the public and public agencies.
CLICK HERE FOR AMATEUR RADIO OPERATORS CODE
For sale - Sarasota Emergency Radio club
Heathkit HA-14 "Mobile Kilowatt" Linear Amplifier. Heathkit MODEL HP-24 AC Power Supply for HA-14 Linear
The HA–14 amplifier uses two 572B power tubes in parallel in a traditional grounded grid configuration.>
The matching power supplies are solid state.