Englewood Amateur Radio Society (EARS)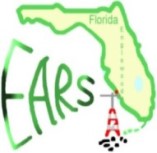 Location
The club holds meetings the 2nd Tuesday of the month at the Englewood Chamber of Commerce. Meetings start at 7:00 pm and generally last about one hour. After the meeting is adjourned, a technical or operatioal presentation is made by one of the club members or speaker......
If you are coming from Sarasota take the State Road 776/Englewood turn off US 41 South... Drive about 7 miles and the Chamber is on the left....
If you are coming from the Port Charlotte take State Road 776 (aka El Jobean Road) to Englewood... The Chamber will be on the right...
If you are coming from I-75 take the River Road Exit to Englewood.... Turn left and the Chamber will be on your left hand side. Plenty of parking. Just look for the vehicles with ham antennae!
1h
601 South Indiana Ave,Englewood, Fl 34223